We are very excited to introduce you to our books. Our books are available on the CreateSpace eStore and other online retails book stores.
"Tuvia Finds His Freedom" by Eliyahu and Shoshanah Shear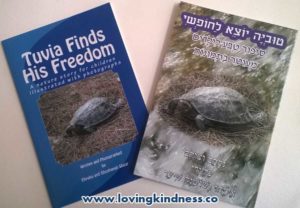 "Tuvia Finds His Freedom" is written and photographed by Eliyahu and Shoshanah Shear and is published in both English and Hebrew.  The book is a nature story (based on a true story) for children, written to educate them on how to treat animals with the kindness and respect that they deserve. In this case, the animal is a tortoise / turtle. The book also teaches children the differences between tortoises and turtles.
Tuvia Finds His Freedom is also available in the following libraries:
The children's library in the Old City of Jerusalem
The library at the Matnas (community centre) in Baka, Jerusalem
The Torah Lending Library of Chessed Ve'Emet

The Gitlin Library in Cape Town, South Africa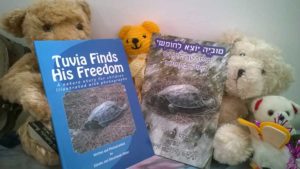 ---
"Parshah in Just Two Minutes" by Rabbi Eliyahu Shear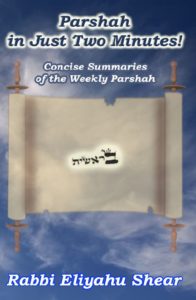 "Parshah in Just Two Minutes" was written by Rabbi Shear to provide a concise overview of each of the weekly Torah portions, breaking them down to the 7 Aliyot (plural for Aliyah which is Hebrew for being called up to the Torah). The book meets a few goals:
For the person who is new to learning Torah, "Parshah in Just Two Minutes" gives a brief overview which is not overwhelming and whets the appetite to encourage the newby to Torah to want to learn more. The new comer to Torah will also have enough insight to know what to ask for, or what concepts of Torah might be of interest.
For someone who is learned in Torah, "Parshah in Just Two Minutes" provides a valuable tool for revision
For the busy person who wants to fulfill the practice to read the Torah portion daily but lacks the time to do so, "Parshah in Just Two Minutes" provides a summary that will meet this goal within your busy schedule.
Stay tuned for our next book which is in the process of being prepared to launch!
---
"Healing Your Life Through Activity – An Occupational Therapist's Story" by Shoshanah Shear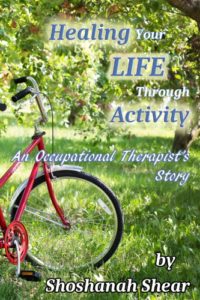 "Healing Your Life Through Activity" is Shoshanah's latest book. The book has been written for both the lay person and the health profession (whether student or already qualified) to educate them on the wonderful profession of occupational therapy. Reading the book the reader will gain the following:
Understand what Occupational Therapy is.
Value the power of meaningful activity.
Appreciate the depth and knowledge that an Occupational Therapist has.
Recognize that OT's work with all ages, across the life cycle in different settings.
Appreciate the wonders of the progression of life (for a human being) from fertility to old age.
Learn about the valuable contribution that my grandfather, Professor Vincent Louis Granger, made to the disabled population in South Africa.
Recognize the importance and validity of the profession of OT.
(Visited 64 times, 1 visits today)