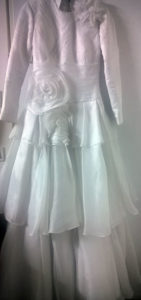 We had such fun today! I had a Kallah call me yesterday to find out about our bridal gowns. She was going to come in another 10 days and then called back to ask if she could come this morning. The first treat came when we opened the door to find both mom and gran had come to help the Kallah to find the perfect bridal gown for her. After half an hour or so of looking through our bridal gowns and trying on a few, the mom of the Kallah asked if I knew anything about alterations.
I began to realise just how much I had learned in our course at university on adapting garments and patterns in order to disguise any deformity. This time there was nothing to disguise but there was a need to adapt the sleeves. Having described what I thought would be possible, I then discovered that my photography skills came in beneficial. I directed the mom of what to photograph in order to ask her seamstress if she could do what I had described.
Now wouldn't it be wonderful if we had the alterations happening on site?
Once the 3 photographs were taken and sent off to the seamstress, we had a 10 – 15 minute wait. There is always much to chat about with a new Kallah, so the time slipped away pretty quickly. Pretty soon we had the response, yes, the seamstress could do the alterations. Now came the discussion. Will this be THE bridal gown? Should we take it, should we keep looking? On my side will this be the bridal gown that is rented or purchased.
A little more discussion and yes! Mazal Tov! The Kallah decided that yes, this was her dream bridal gown. I am so looking forward to seeing the final result once the bridal gown has been altered.
What was particularly exciting for me, was to hear from the Kallah, her mother and her grandmother a consensus that they agree the centre we are working towards is needed. If you know a Kallah getting married in Jerusalem, please have her be in touch to come and visit our Bridal Gown Gemach. If you believe in assisting brides and especially those who do not have the family support, please visit our crowd fundraiser and help us to reach our goal of developing a very special centre.
This post is prepared for you by: Shoshanah Shear, Occupational therapist, healing facilitator, certified infant massage instructor, freelance writer and co-author of "Tuvia Finds His Freedom" and author of "Healing Your Life Through Activity – An Occupational Therapist's Story"
Please follow and like us: