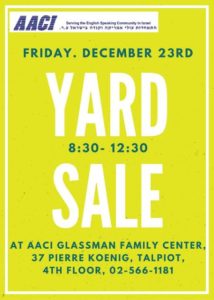 Mark your calendar and come and support our sale that will be taking place on Friday. We will be having a table at the AACI Yard Sale. The details for the sale are as follows:
WHEN WILL THIS BE?

Friday, December 23rd, 8:30 – 12:30
WHAT IS THIS ABOUT?
AACI Yard Sale – Get Ready for Great Bargains! Toys, games, clothing, kitchen supplies, books, jewelry, and more!
Bring an appetite because there will also be challot, knishes, and other treats for sale!
TIMES: From 8:30 am – 12:30 pm at AACI
LOCATION: Glassman Family Center, Pierre Koenig 37, Talpiot, on the 4th floor. For directions or further information, please call 02-566-1181.
We look forward to seeing you there!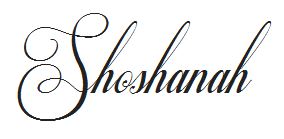 Please follow and like us: