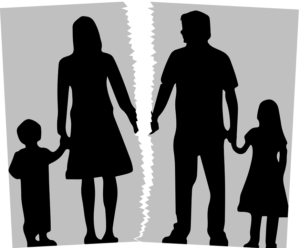 I would love to have all of the posts on this blog targeted at developing and maintaining healthy marriages. It makes such a difference to the couple and the children to have the stability of a happy family. However, life is not always like that. Sadly in my years of working as an OT and even from my own experience, there are many times that divorce happens.
What does many mean? If you take a look at divorce statistics for the US, the figures are sadly on the increase. Wikipedia has an interesting chart of the marriage : divorce stats and ratio for different countries. Unfortunately the figures are not all from the same year, which does make a difference, however the range is from 4% to 67% of marriages ending in divorce.
In other posts and services offered on this website / blog I'd love to help with reducing those rates, especially for countries with the higher percentage rate. This post has another focus and that is how to handle a divorce if it happens.
Usually when a couple get married, their dream and goal is to build a home, start a family and stay together for the rest of their lives. If you have mastered some of that dream and sadly your marriage ends in divorce, the kindest thing you can do for your children is let that divorce be peaceful and don't talk about it to your kids.
Remember, whatever transpired between you as a couple is not the fault of your children. So, don't punish your kids for your getting divorced. What does that mean?
Don't make your children feel guilty that you chose your spouse to marry. Your kids were not around when you decided to get married and your decision of who to marry is not their fault.
Don't tell your children about any of the details of your marriage. Your relationship with the father of your children should be private.
If you are having a rough time coming to terms with getting divorced or having gone through a divorce, seek out a good support group and / or appropriate therapist to help you to come to terms with your life decisions. Your children are not your therapist and should not have to hear details or to experience any guilt associated with your getting divorced.
Make sure to do all that you can to have a peaceful relationship with the father of your children.
Do not put your ex-husband down to your children. At the end of the day he is still the father of your children and they have a right to have some respect for their father.
Make sure to have quality time with your kids.
Make sure to keep conversation to topics that are not related to the divorce.
However, if your child needs to express their difficulty with growing up in a broken home, be open to hearing them. If it is too hard for you, find the right extra mural activities, support group and therapy to help your child to heal from the situation and to continue to thrive.
Make sure that your child(ren) have the opportunity to maintain a good relationship with their father. Never make them feel angry with the father or guilty as this could result in the child not wanting to talk to their father.
Lastly, help your children to have time with kids their age and to develop good friends.
Remember, whatever happened to cause the divorce, all children need both parents. Please do what you can to make sure that your children can have a good relationship with both parents, even if there has been a divorce.
NOTE: In the event that there was abuse in the home, seek professional intervention to help you to develop the best situation to help your children.
This post is prepared for you by
Occupational Therapist, healing facilitator, certified infant massage instructor, freelance writer, author of "Healing Your Life Through Activity – An Occupational Therapist's Story" and co-author of "Tuvia Finds His Freedom".
Please follow and like us: