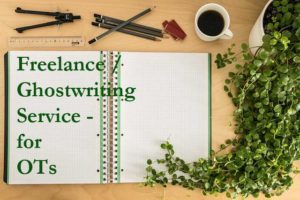 The writing services outlined on this page are specifically geared towards the needs of fellow occupational therapists. Technology is rapidly becoming an important part of the life of the modern OT. If you are keeping up to date with trends in the area of work, you might have already heard of the benefits of having a blog, developing a social presence and even making sure that you have some options in place to help you with passive income. If you are a busy OT, you might have difficulty keeping up with your writing goals.
If you are struggling with the many demands placed on OTs today, you have come to the right place.
Would you love to have your own OT website, blog, newsletter and products but lack the writing skills or time to make this a reality?
If your answer is yes, then this freelance writing service is for you.
Select and build the elements that meet your needs from the list below and create the perfect package for you.
Skype consult to help you to plan your website, blog, email newsletter and other writing needs
Articles for your blog. These articles can be with or without a byline. You can select the length of article that best suits your readers e.g.  500 – 600 words in length, 1000 words in length.
Ghostwriting service of case stories, books / ebooks
Content for your email newsletters.
Content for your website
Please visit my writing portfolio, testimonials and books.
"This looks amazing and just what I had in mind! I'm so grateful that this project has finally come to fruition. I absolutely recommend you for any occupational therapy writing services and will be looking forward to working with you again in the future." ~ Ghostwriting Client
Contact me to begin the writing package that meets your needs or for a Skype consult to figure out what combination and path will help you to meet your OT goals.
I look forward to working with you.
(Visited 61 times, 1 visits today)