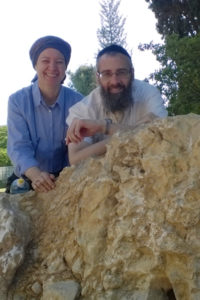 Shoshanah Shear graduated BSc  honours degree in occupational therapy in 1990. This was a major achievement, as she had been diagnosed with a chronic illness in her 3rd year of university and wrote her finals despite having bronchitis. Living with a chronic illness has given Shoshanah insight and skills that she incorporates in her treatment. It is through her desire to regain her health that she obtained certification in bio-energetic healing and brain gym which she adds to occupational therapy sessions as and when indicated or appropriate. Since becoming trained in these skills was not enough to achieve the goal of good health, Shoshanah looked at her profession of occupational therapy for guidance. Recognizing that occupational therapy is involved with the whole person, including the spiritual dimension, Shoshanah began to explore her own heritage of Judaism, a step that took her onto a path to pioneer a new direction combining occupational therapy with Torah.
Shoshanah has had varied experience covering the full life cycle and working in hospitals, schools, developmental clinics, old age homes and the community in four different countries. This exciting journey has lead her to change focus from rehabilitation to prevention and promotion of health.
After taking an advanced theory course in the Model of Human occupation, Shoshanah recognized the importance of the fulfillment of life roles in our ability to live healthy, balanced lives of meaning and purpose. Out of this journey, Shoshanah began to develop her services aimed at assisting Jewish women in the role of wife and mother.
Shoshanah is married to Rabbi Eliyahu Shear. They work  together to develop a special Torah healing centre. Their  dream is to have a centre that has a few sections to it
A Yeshiva/Kollel for Torah learning online and in person
A Torah lending library
A healing centre offering all the services of Be A Happy Mom focusing on Jewish women, children and babies
A section of kindness projects aimed at empowering Jewish widows and orphans
Publishing our books that offer Torah, kindness and occupational therapy
On the page: Writing Portfolio, you can find links to Shoshanah's articles published in publications and on websites.
Shoshanah co-authored "Tuvia Finds His Freedom" together with her husband and is in the process of completing the final editing of her first professional book. Watch this space for when it will be launched!
(Visited 42 times, 1 visits today)