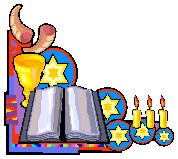 There is much to do in preparing for Rosh HaShanah. One can of course prepare from the start of the new year until the following year, by setting suitable goals and working systematically towards them. Many have goals, others need help to develop them.
Some work on their goals all year round, others leave preparing for Rosh HaShanah until the month of Elul. Still others might not realise the full meaning of Rosh HaShanah and hence do not prepare or prepare very little.
The truth is, that there is much to prepare for. On the basic physical level, Rosh HaShanah, the Jewish New Year is a day to spend both in prayer and enjoying delicious meals with one's family and friends. Since we are not permitted to do work on Yom Tov there is preparation to be done. Rosh HaShanah is a two day festival and this year it is followed directly by Shabbat. That means we have 3 days to prepare for.
Continue reading "Simplify Your Rosh HaShanah Preparations"
Please follow and like us: